Garage Door Opener Repair
Back To Our Services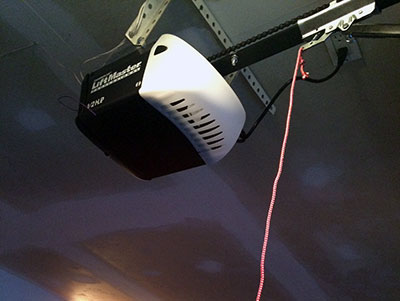 Most people think that a garage door opener repair is something that can be easily done. It is a common misconception especially now that DIY projects are becoming popular. Be forewarned though, a garage door opener has more parts than a regular lock or a door knob. It takes a certain level of skill and mastery of the movable parts contained inside a garage door opener.
Noisy openers are never a problem for our skillful professionals
A non professional can try to do the job but by doing so, he is opening himself to possible injuries and accidents. Additionally, a person who tries to carry out garage door opener repair without proper training and experience may end up damaging more parts. This could cause the entire garage door to malfunction or to jam. When it comes to complex devices, repairs are best left to the experts. Skilled technicians train for years and have the proper experience necessary to work on different parts of garage doors. They can be called on anytime for service and repair and mostly offer pocket-friendly rates. Find yourself in need of Sears Garage Door Opener Repair? Call our specialists at Garage Door Repair Anaheim today!